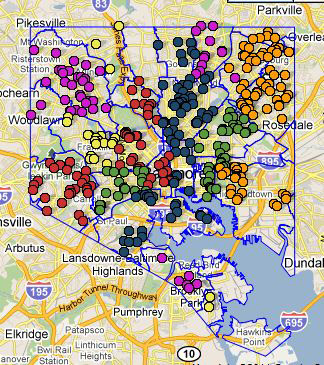 Interactive map screenshot of foreclosure filings for the 1st
quarter of 2011.
Foreclosure Indicators for Baltimore City
This website contains data and maps for Baltimore City residential foreclosure filings and ratified sales. The Baltimore Neighborhood Indicators Alliance collects, charts and maps the data, in addition to maintaining the site, with support from the Baltimore Homeownership Preservation Coalition. All data is public information and available from the Maryland Judiciary Case Search and Maryland State Data Center. This website does not include data on tax foreclosures.
Accessing the Data
All foreclosure filing data is provided in downloadable Excel spreadsheets. You can also view foreclosure filings on an interactive Google map, or on downloadable PDF maps (for prior years). Right now, ratified sale data is only available by quarter in chart or graph form. For more information on foreclosure data or other resources, visit the Resources and Links page.
Understanding the Data
Two foreclosure indicators are accessible through public records: a foreclosure filing and a ratified sale. A foreclosure filing (also known as the order to docket or complaint to foreclose) is a legal action documented in the Baltimore City Circuit Court that represents the formal initiation of a foreclosure. Not all filings result in actual foreclosures – a delinquent borrower may be able to prevent foreclosure through a workout option, such as a loan modification, or by selling the property.
If, however, there is no feasible solution to prevent foreclosure, then a foreclosure auction is held. The purchase of the property at a foreclosure sale, whether it is taken back by the bank or bought by a third party, must be approved by the court. This approval is documented in the court records and referred to as a ratified sale.
For more information on the foreclosure process and timeline in Maryland, visit the FAQs page on the MD HOPE website.
Using the Data
Because a foreclosure filing is one of the first steps in the process, it can be an "early warning" indicator for agencies that provide services to neighborhoods and community residents. It is not too late for a homeowner to receive nonprofit help to prevent foreclosure at the time of the filing. The data provided on this website is address-specific so that it can be used for direct outreach to the property owners.
Ratifying a foreclosure sale, on the other hand, is one of the last steps in the foreclosure process and indicates where a foreclosure has been completed. Comparing foreclosure filing and ratified sale data gives us an estimate of how many properties went all the way through the foreclosure process, or how many foreclosures may have been prevented (or the bank, for whatever reason, chose not to complete the foreclosure).
Furthermore, tracking both foreclosure filings and ratified sales shows the distribution pattern of those households affected by foreclosures and allows us to do trend analysis with market statistics and other demographic data to more fully understand the impact that foreclosure has on Baltimore City neighborhoods and residents.
Are you a Maryland homeowner facing foreclosure and in need of assistance?
Call the MD HOPE hotline at 1-877-462-7555 or visit www.mdhope.org to reach a TRUSTED not-for-profit professional. DO NOT PAY for foreclosure-prevention assistance.