Interactive Map of Foreclosure Filings
Download foreclosure maps with interactive layers in PDF format here, or download this data in spreadsheet form here.
Notice: Foreclosure markers may take up to 20 seconds to display for search criteria that involve large numbers of filings.
Search Criteria
Time Period

Quarter
Year

Boundary Overlay

Can be enabled at any time

City
Zip Code
Neighborhood
---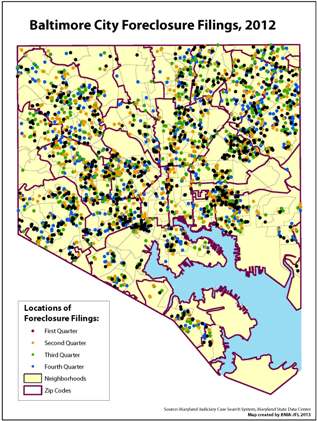 Downloadable Maps of Foreclosure Filings
Maps of foreclosure filings are available for download in PDF format for the following years:
A map identifying Baltimore City neighborhoods is available here.